March 16th, 2012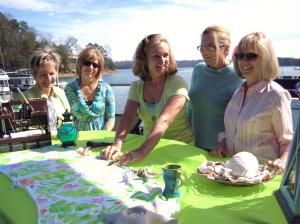 I got lucky!! I submitted pictures to Cloth.Paper.Scissors. magazine of my studios, The Starry Night, on my houseboat at Lake Lanier, and in my home, The Silver Vista Studio. Cloth. Paper. Scissors (Studios) Magazine is publishing the article in the summer, 2012 edition.

My passion in life is to share with the world how fun it is to enter the art world and focus on the fun of creating. Yes, it can also be frustrating, but sometimes, for a brief while, you are in your right brain, releasing healing endorphins, visiting with the saints. Sounds crazy, but believe me, without my art, no telling where I would have ended up in life! Anyone can do art, as I have successfully demonstrated. My husband, Ben, a business owner, recently let me teach him to draw our cat, Lil C. He loves to draw now, and can see how the shapes come together like puzzle pieces. For me, excitement is watching that art door open for someone.

Art is the PERFECT hobby. Do it by yourself, with others, on trips, at home alone, take trips, rain or shine, on your deathbed!

I volunteer teaching art at the Manor Assisted Living in Cumming, Georgia, and I find that the people who have created art earlier in life are the happiest at a later age. They seem to be younger too! I feel that creating keeps the elixer of life flowing!!